How does this work?
Use the menu drop down to locate your lesson assignment.
Watch your assigned lesson video.
While watching pause the video frequently. You will need to do this to fill in your notes and to practice the problems on your own *Back-up, review, and practice the material as needed!*
Take the quiz! This quiz gets scored automatically and is entered into Engrade, work carefully.
How am I graded?
Video Quizzes
Lesson homework set
Notes
​Practice Tests
Tests

- 5 points (These must be completed prior to class, points cannot be made-up)
- 30 points each
-25 (5 points for each lesson)
- 30 points
- 100 points
All homework sets can be corrected for full credit
All tests may be corrected to earn back half the points you missed
Lesson Pages
Powered by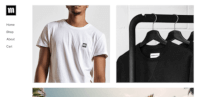 Create your own unique website with customizable templates.